What is it ?
The composite is a combination of two immiscible materials; the reinforcement and the matrix which, when combined together, have superior mechanical properties (lightness, rigidity…) The matrix used is polyester or epoxy resin and the reinforcements used are made of fibreglass, polyamide, carbon or Kevlar. In order to harden the resin, a percentage of an additive called the hardener is added. "This chemical reaction called polymerisation will allow the fibre + resin assembly to become rigid.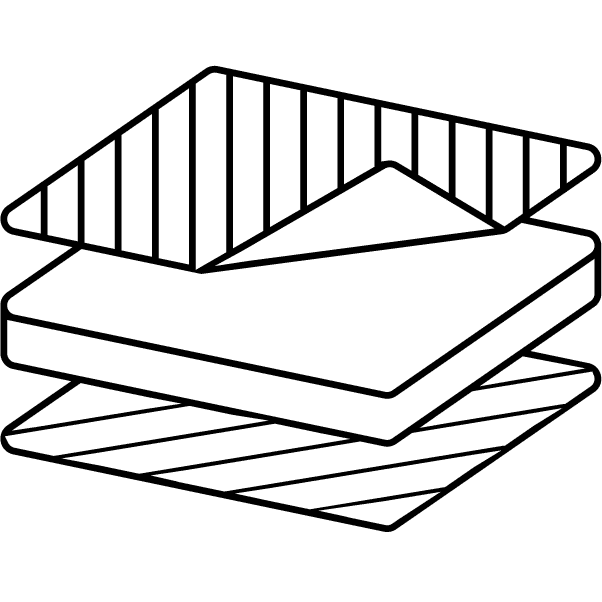 THE COMPOSITE SANDWICH
The thicker a material is, the stiffer and heavier it will be. But unlike metal, which is composed of a single material that is just thickened, composite offers the possibility of assembling several materials together, which will considerably increase its thickness without increasing its density. The result is a "composite sandwich".
The composite sandwich is an assembly of two thin outer skins superimposed on a light but thick inner core. The core material is normally a low-strength material (closed or open-cell foam, balsa, wood, etc.), but its greater thickness gives the sandwich material high flexural rigidity and low overall density.
All of our vessels are built with these material assemblies following strict quality processes, both at the design stage, through compliance with BV, LLOYD, DNV… regulatory standards, and throughout the manufacturing process.
Our engineers have set up a construction methodology that meets the six most important specificities :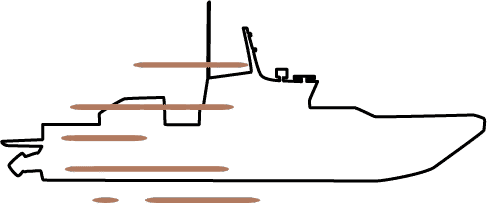 PERFORMANCE
Our structures such as the hull, decking, roof and superstructure are entirely made of foam / fibreglass sandwich. The reinforced areas are assembled with specific materials such as carbon and Kevlar®. The overall weight saving obtained by the use of these materials allows higher sailing speeds than those made of steel.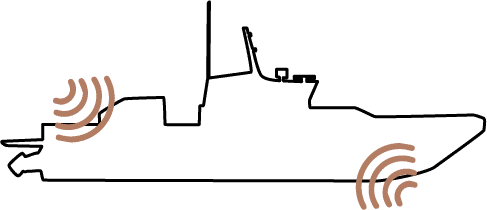 AMAGNETIC
Use of non-magnetic materials : hull and superstructure composed of a glass-resin sandwich (CVR).
In addition to these natural characteristics, we are implementing specific magnetic immunization studies to reduce any residual magnetic influence on board in order to define a very low acoustic signature to avoid triggering acoustic ignitions.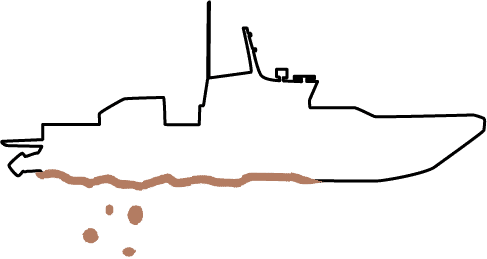 CORROSION RESISTANCE
One of the most remarkable features of this composite is its total insensitivity to oxidation. This quality allows considerable reductions in maintenance costs and downtime.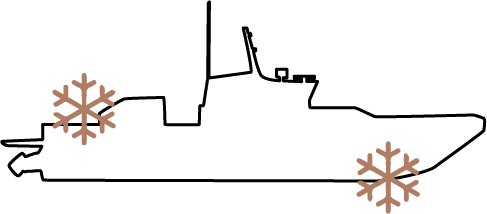 CLIMATE RESISTANT
Composite offers natural insulation through the succession of layers that compose it. We generally find a thickness of foam in the middle of this assembly which will bring stiffness but also an important sound and thermal insulation. Thanks to this technology, our vessels adapt to all environments and navigate in the worst weather conditions without any difficulty.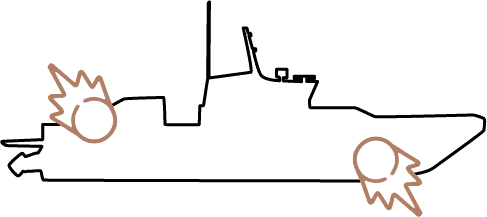 SHOCK MITIGATION
The custom design hull provide better shock mitigation with specific FEA studies about the sea impact on the hull. Ours vessel are equipped by special shock mitigation seats to increase the operator comfort on board.

EASY REPAIR
In the event of an accident, repairs to fiberglass, carbon and Kevlar® structures do not require any special equipment, power supply or major welding equipment. Nor does it involve certification of the repair by an outside agency. Our teams are authorized to train you to familiarize you with its repair techniques and then do it yourself, with ease.
THE INFUSION PROCESS
Couach Shipyard has developed an expertise in combining composite materials through the infusion process. We use this specific process for the manufacture of hulls, structures but also in the composition of many parts of the ship.